A lawyer representing one of the whistleblowers with knowledge of the deadly attack on the U.S. Consulate in Benghazi last September says 400 surface-to-air missiles were "diverted to Libya" during the attack and fell into "the hands of some very ugly people."
In an interview with Washington, D.C., radio station WMAL on Monday, Beltway lawyer Joe diGenova said he "does not know whether [the missiles] were at the annex, but it is clear the annex was somehow involved in the distribution of those missiles," Breitbart.com reported.
Saying his information "comes from a former intelligence official who stayed in constant contact with people in the special ops and intelligence community," diGenova said the U.S. intelligence community is terrified the missiles might be used to shoot down airliners — and that fear, in part, fueled the closing of embassies in the Middle East last week.
"They were afraid that there was going to be a missile attack on one of the embassies," he said, The Daily Mail reported.
"Remember, you can take a shoulder-held missile and shoot it into an embassy. Not just into the sky.
"That's what this was all about," diGenova insisted. "That's why they're so worried. That's why they have lied repeatedly about what happened in Benghazi, because they are now responsible for all of the stepchildren of violence that happens as a result of this. This is a very serious matter."
DiGenova's wife, Victoria Toensing — a former deputy assistant attorney general — also represents Benghazi witnesses and others with knowledge of the terror attack, according to the Mail.
"A lot of people have come forward to share information with us," he said during the radio station's "Mornings On The Mall" program.
"We have learned that one of the reasons the administration is so deeply concerned" is that "there were 400 surface-to-air missiles stolen, and that they are ... in the hands of many people, and that the biggest fear in the U.S. intelligence community is that one of these missiles will be used to shoot down an airliner," diGenova said, adding that his sources have told him the missiles are in the hands of al-Qaida operatives.
"And it's pretty clear that the biggest concern right now are 400 missiles which have been diverted in Libya and have gotten in the hands of some very ugly people," he said.
DiGenova was U.S. attorney for the District of Columbia for four years beginning in 1983, and later was an independent counsel appointed to investigate a State Department official who ordered politically embarrassing searches of the passport files of Bill Clinton, Clinton's mother, and Ross Perot before the 1992 presidential election.
In 2007, the New York state Senate retained him to investigate then-Gov. Eliot Spitzer over allegations that he ordered the State Police to track the whereabouts of Republican State Senate Majority Leader Joseph L. Bruno when he used police escorts to travel to and around New York City.
Now, diGenova and Toensing, a former chief counsel for the Senate Intelligence Committee, represent Gregory Hicks, the deputy chief of mission at the U.S. Embassy in Libya at the time of the Benghazi attacks; and Mark Thompson, a former Marine who serves as deputy coordinator for operations in the State Department's counterterrorism section, the Mail reported.
The lawyers say Hicks' and Thompson's superiors subjected them to an intimidation campaign after then-Secretary of State Hillary Clinton's Accountability Review Board ignored their accounts of the Benghazi attack.
Toensing told Fox News in April one of the two men was warned about the impact on his career if he cooperated with Republican investigators in Congress.
"It's frightening, and they're doing some very despicable threats to people," Toensing said, the Mail reported.
"Not 'we're going to kill you,' or not 'we're going to prosecute you tomorrow,' but they're taking career people and making them well aware that their careers will be over."
President Obama has said he is unaware of any witnesses from Benghazi who have been prohibited from working with Congress. Secretary of State John Kerry has attributed such stories to "an enormous amount of misinformation."
In a May 30 letter, CIA Director John Brennan told personnel stationed in Benghazi that they were free to speak with Congress, but that they should involve their chain of command and follow specific procedures, the Mail reported, adding the measure was seen by some as a subtle warning that CIA agents must not approach lawmakers on their own.
Read Latest Breaking News from Newsmax.com
http://www.newsmax.com/newsfront/missing-missiles-benghazi/2013/08/12/id/520026#ixzz2bqk3OCN9
Urgent: Should Obamacare Be Repealed? Vote Here Now!
CNN has revealed new information about the number of CIA agents in Benghazi, as well as about the "great lengths" the Agency is going to to ensure that whatever those operatives were doing there remains a secret.
One unnamed CIA source calls the Agency's efforts to silence those who know the truth about Benghazi "unprecedented." CIA agents operating in Benghazi have been subjected to monthly polygraph exams since January, according to "a source with deep inside knowledge of the agency's workings." These lie detector tests are being conducted in a bid to discern whether any agents are leaking information to Congress or the media.
"Agency employees typically are polygraphed every three to four years, never more than that," said Robert Baer, a former CIA agent who now works for CNN. "If somebody is being polygraphed every month, or every two months, it's called an issue polygraph, and that means that the polygraph division suspects something, or they're looking for something, or they're on a fishing expedition. But it's absolutely not routine at all to be polygraphed monthly, or bi-monthly."
The CIA's concerted effort to silence operatives has been described as "pure intimidation," with the implicit threat that anyone who talks could find themselves out of a job. This has had a chilling effect on CIA employees, who by law are supposed to be allowed to speak with Congress.
"You have no idea the amount of pressure being brought to bear on anyone with knowledge of this operation," one unnamed CIA source said of Benghazi.
But why?
A source told CNN that as many as 35 CIA operatives were in Benghazi at the time of the September 11, 2012 attack which killed US Ambassador Christopher Stevens, foreign service information management officer Sean Smith and security personnel Glen Doherty and Tyrone Woods, both former Navy SEALs. The source told CNN that as many as seven Americans were wounded during the attack and that as many as 21 Americans were working in the building known as 'the annex,' which is believed to be run by the CIA.
There has been much speculation that US operatives were covertly running surface-to-air missiles from Libya through Turkey and into the hands of Syrian rebels fighting to overthrow the Bashar al-Assad regime in a bloody civil war that has claimed more than 100,000 lives since 2011.
Of the two US agencies known to be working in Benghazi, the State Department and the CIA, the former says it was only assisting the new Libyan government in the destruction of weapons that were damaged, outdated or unsafe, and that it was not involved in the international transfer of any arms. State Department officials told CNN that they "can't speak for any other agencies."
Last October, Fox News reported a "mysterious Libyan ship reportedly carrying weapons and bound for Syria rebels" may be linked to the attack. Fox reported Ambassador Stevens met with Turkish Consul General Ali Sait Akin an hour before the attack began, allegedly to discuss transferring weapons out of the hands of dangerous Libyan militants. SA-7 surface-to-air missiles were allegedly earmarked for Syrian rebels and could have been among the 400 tons of cargo aboard the 'mysterious' ship.
The CIA would not comment about any alleged weapons transfers.
"I think it's a form of cover-up, and I think it's an attempt to push it under the rug, and I think the American people are feeling the same way," Rep. Frank Wolf (R-VA), whose district includes CIA headquarters in Langley, told CNN. "We should have the people who were on the scene come in, testify under oath, do it publicly, and lay it out. And there really isn't any national security issue involved with regards to that."
Rep. Wolf said that initially, numerous operatives involved in Benghazi came forward with a strong desire to talk.
"Initially they were not afraid to come forward," Wolf told CNN. "They wanted the opportunity, and they wanted to be subpoenaed, because if you're subpoenaed, it sort of protects you, you're forced to come before Congress. Now that's all changed."
CIA spokesman Dan Boyd insists the Agency is being straightforward with Congress.
"The CIA has worked closely with its oversight committees to provide them with an extraordinary amount of information related to the attack on US facilities in Benghazi," Boyd said in a statement.
"CIA employees are always free to talk to Congress if they want, " the statement continued. "The CIA enabled all officers involved in Benghazi the opportunity to meet with Congress. We are not aware of any CIA employee who has experienced retaliation, including any non-routine security procedures, or who has been prevented from sharing a concern with Congress about the Benghazi incident."
Read more:
http://m.digitaljournal.com/article/355726#ixzz2bqmutimx
Sir Pun wrote:A lawyer representing one of the whistleblowers with knowledge of the deadly attack on the U.S. Consulate in Benghazi last September says 400 surface-to-air missiles were "diverted to Libya" during the attack and fell into "the hands of some very ugly people."

In an interview with Washington, D.C., radio station WMAL on Monday, Beltway lawyer Joe diGenova said he "does not know whether [the missiles] were at the annex, but it is clear the annex was somehow involved in the distribution of those missiles," Breitbart.com reported.

 I've felt for a long time that this is exactly why the compound was attacked.  The US was doing something it wasn't supposed to be doing.  The bad guys knew about it and attacked the compound...either to steal the missiles or to cut the head off of the snake.  Either way the POTUS and the Sec of State doesn't want to go into details about what they knew.  I think they tried to suppress this news and managed to do so until after the election.
We still dont even know what obama was doing tht night
That's right.  I don't understand why someone just doesn't ask Obama point blank what he was doing the night of the attack?  Why is it so hard to find out what Obama snd Hillary were doing then and who actually told the military to stand down when those former seals were fighting and dying to try to protect the ambassador. 
Also, why wasn't the Ambassador protected by the United States Marines?  Who better to protect him?  I feel like a well armed MarDet unit could have successfully defended the Ambassador and that compound rather than relying on Libyan security and 4 retired ill-equipped former Seals.   
Who the heck made that decision???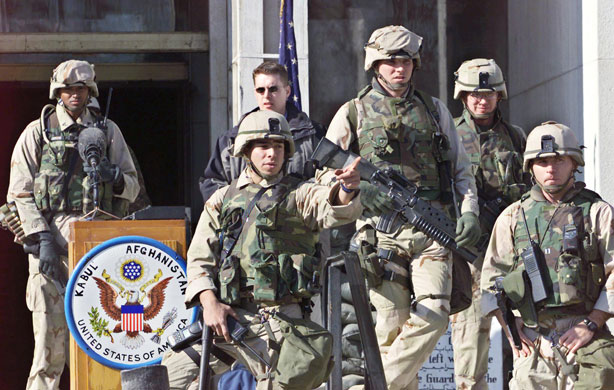 You give these guys the right equipment and they'll get the job done.
Well thats the pre attack part of the scandal. With prior attacks on our embassy and a french convoy attack in the city causing the brits amd french to pull out, and with the al qaeda flag flying over the city, why were we even still there to begin with, and why, on the anniversary of 9/11, was there essentially no forces there? Even after an assessment had been made previously that the compound needed security improvements. Because this was in an election year, and obama wanted to give the appearance of "normality" because he wanted libya to be a foreign policy success. Many say the consulate was just a cover for the cia operation
Just guessing but I believe we were there and we had no Marines present because we were running guns and did not want anyone to know.  And yea, I think the election had a lot to do with this as well.
Not the first gun running program under this admin either
We historically have run guns I think.  Or some sort of arms (Iran Contra?).  And normally I'm not against it in some situations.  But in this case I think we had a treaty with Russia that we wouldn't do this.  Its no wonder Putin insulted us over the Snowden deal and relations are so bad now.

We may as well face it.  We're in a proxy war with Russia now.

---
Permissions in this forum:
You
cannot
reply to topics in this forum